Details

Hits: 1587
63/37 Solder Bar
We directly import Bar Solder from UK. 
The 1 kg weighing bars are supplied from our stock in Ankara.
The lead ration in high purity bar solder is around 63.2%.
The standards suggest this ratio to be between 62.5% and 63.5%.






Peelable Solder Mask
Techspray 2211-8SQ
Wondermask P, 237 mL
 


Conformal Coating - Acrylic
Techspray 2108-12S
Acrylic Conformal Coating, 340 mL

Dry to Touch in 3 Minutes!!


Conformal Coating

 - Silicon

Techspray 2102-12S
Silicon Conformal Coating, 340 mL

Ideal for moisture, thermal and vibration protection...

MIL-I46058C Type SR, IPC-CC-830B,  UL94 v-0 rated, UL#E95150



Techspray 1621-10S E-Line Flux Remover, 400mL
Flux removal spray (pdf datasheet)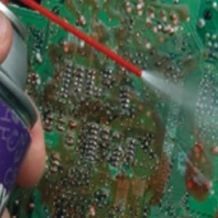 Stencil Cleaner
SCS 13
Techspray 1671-10S Non-Flammable Duster, 234 mL
Spray duster (pdf datasheet)